author
Francesco Impellizzeri – Trapani, 1958
painter and performer
contribution
Per L'Appunto Pastena, 2009/2011            
2 photos cm 22×30, text
received 01.03.11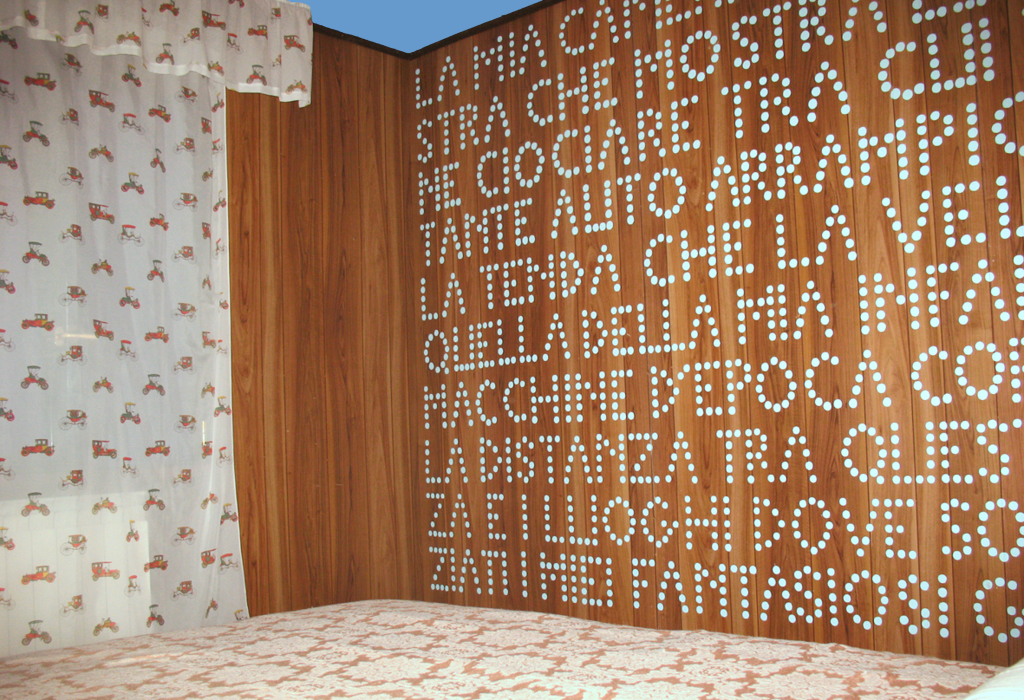 notes
A wall in my "Villetta of the Good Withdrawal" among the hills of Ciociaria. When I was arranging it, my mother brought me from Sicily the curtain that belonged to my little bedroom. I felt a strong emotion: memories of a childhood  transported on small ancient autos printed on those fabrics that hided the reality!
That night I waked up with a text in my mind. When I opened my eyes I saw the text as projected on the wall. I took pen and notebook, always beside my bed, and I quickly written the rhymed words. A lot of brushstrokes, drawing little blue balls, now converse with the wood wall:
MY ROOM HAS A WINDOW THAT SHOWS THE HILLS CIOCIARE WHERE I CAN SEE CLIMB SO MANY AUTOS. THE CURTAIN, THE SAIL, IS THAT OF MY CHILDHOOD: AUTOS OF EPOCH COVER THE DISTANCE AMONG THIS ROOM AND THE PLACES WHERE STARTED MY FANCIFUL GAMES.
---
Una parete che ho dipinto con un testo nella mia "Villetta del Buon Ritiro" tra le colline ciociare. Quando la stavo arredando, mia madre mi ha portato dalla Sicilia la tenda che apparteneva alla mia cameretta. L'emozione è stata forte, rimandi di una infanzia che si lasciava trasportare dalle piccole auto d'epoca disseminate su quei teli che eludevano la realtà! 
La notte, dopo averla montata nella camera da letto, mi sono svegliato con un testo che ronzava prepotente nella mente. Aprendo gli occhi si è come proiettato sulla parete e, afferrando penna e taccuino che stanno sempre sul mio comodino, ho scritto velocemente le rimate parole. Tante pennellate a forma di pallini dipinti in azzurro adesso dialogano con il muro di legno:
LA MIA CAMERA HA UNA FINESTRA CHE MOSTRA LE COLLINE CIOCIARE TRA CUI VEDO TANTE AUTO ARRAMPICARE. LA TENDA CHE LA VELA E' QUELLA DELLA MIA INFANZIA: AUTO D'EPOCA COPRONO LA DISTANZA TRA QUESTA STANZA E I LUOGHI DOVE SONO INIZIATI I MIEI FANTASIOSI GIOCHI.