author 
Emanuela Ascari – Sassuolo (Modena), 1977
artist
Modena – Bologna
contribution #1 
SENZA TITOLO
frottage on sketch paper, made in Nosadella Due, Bologna, 21×29,7 cm 
received 24.03.11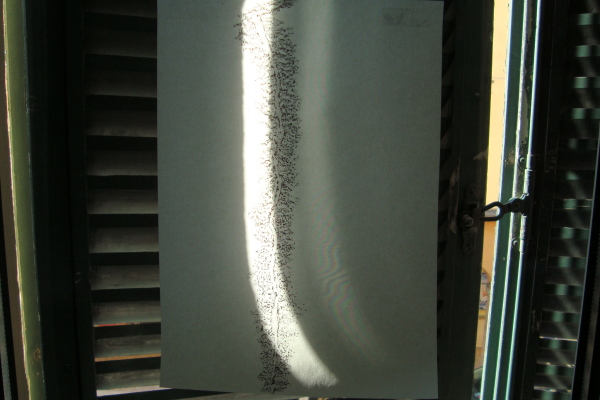 notes
Notes on the brittleness, in a relief of the cracks on the walls of a house, of every building, as of every social construction and politics.  A reflection on the walls that define spaces of sense, and that share the process of destruction-transformation.  I decide to work on the walls of the residency Nosadella Due, container of art and space of reflection, I look for traces of time, inevitable yielding of an alive and breathing structure, simply showing these microgeologies of the daily paper.
---
Appunti sulla fragilità, il lento disgregarsi della materia, in un rilievo delle crepe presenti sui muri di una casa, di ogni edificazione, come di ogni costruzione sociale e politica.  Una riflessione sui muri che definiscono spazi di senso, e che, come tutte le cose, partecipano dello stesso processo di distruzione-trasformazione della materia. Decido di lavorare sui muri di Nosadella Due, lo spazio ospitante, contenitore d'arte e spazio di riflessione, alla ricerca di tracce di tempo, inevitabili cedimenti di uno spazio che vive e respira, mostrando semplicemente queste microgeologie del quotidiano.
contribution #2 
PRECIPITATO
site-specific installation made in Santa Croce sull'Arno, Pisa (March 31, 2012) / installazione site-specific realizzata a Santa Croce sull'Arno, Pisa (31 Marzo 2012)
received 24.03.11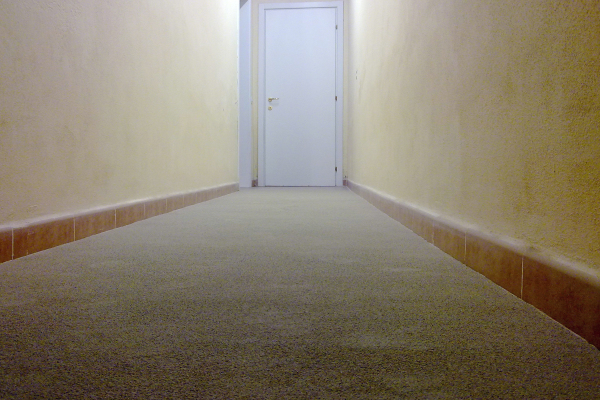 notes   
I took a part of wall's plaster from the abandoned building near to Villa Pacchiani (a former tannery). This matter has been sift to retrieve its most advanced status of disgregation: the dust. Finally I put the dust in Villa Pacchiani interior, completely covering a passage between two rooms in order to impede the crossing.
---
Dall'edificio in stato di abbandono a fianco di Villa Pacchiani, un'ex-conceria, ho prelevato porzioni del rivestimento dei muri in disfacimento, la pelle dell'edificio. La materia setacciata in modo da recuperare il suo stato più avanzato di disgregazione, la polvere, è stata disposta nello spazio di Villa Pacchiani per ricoprire interamente un passaggio impedendone l'attraversamento.